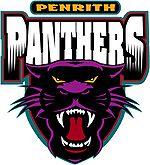 The Penrith Panthers are a team based in Penrith, Western Sydney, at the foot of the Blue Mountains, a popular tourist attraction. They have won two premierships, in 1991 against the Canberra Raiders, with Penrith Panthers winning, a famous moment in thgis match was when Mark Geyer ran at the ball off the short drop out passing it to Royce Simmons, making Simmons score 2 tries in the grand final in his last game and securing the win for Panthers. The score was 19- 12. In 2003 Penrith faces Roosters winning their seconed Grand Final, A famous moment in this game was when Scott Sattler made a heroic try saving tackle. The score was 18- 6
The Penrith Panthers were established in 1967. The NSWRL wanted 2 new teams to the competition, and there was a competition between Penrith Panthers, Cronulla Sharks and Wentworthville Magpies (Wenty) to gain those positions. The Cronulla Sharks had already gained a position, so it was up to Penrith and Wentworthville to fight it out. The NSWRL eventually settled on Penrith due to their location and a win in the 1966 Second Division title.
Ad blocker interference detected!
Wikia is a free-to-use site that makes money from advertising. We have a modified experience for viewers using ad blockers

Wikia is not accessible if you've made further modifications. Remove the custom ad blocker rule(s) and the page will load as expected.